Jovan introduced its famous Grass Oil perfume in 1974 and it was an instant hit, especially among the Love Generation who wanted an earthy, back to nature fragrance.
So what does it smell like? It was made up of a potent, long lasting blend of various essences of grasses, spring flowers, earth flowers, and clover blossoms. It was available in both a perfume oil and a cologne spray.
Top notes: aldehydes, green note, bergamot, lemongrass
Middle notes: clover blossoms, spring flowers
Base notes: galbanum, musk, vetiver
Jovan marketed this as a sensual perfume: "Take it from us. And let nature take it from there" and described it as  "The fragrance that helps you cultivate your relationship. In the most natural of ways."
Another ad promised "So you can have it any way you want it. Or any way he does."
When the cologne mist and perfume oil were introduced, Jovan urged you to "try them both. And have a field day."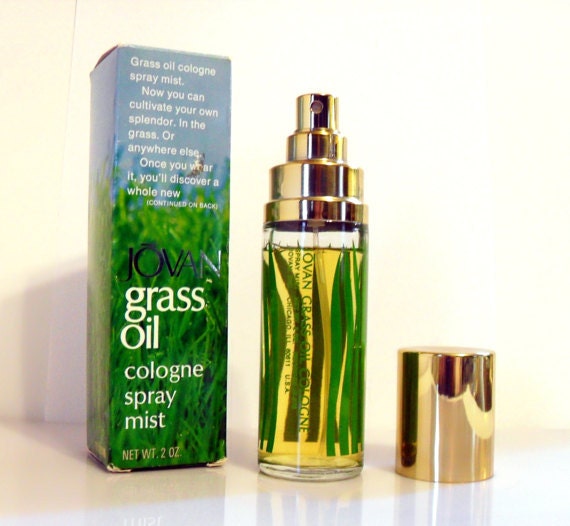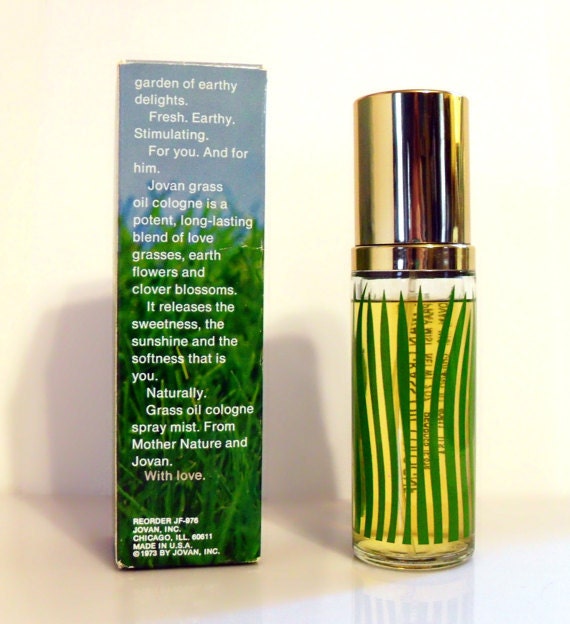 With the success of Jovan's Grass Oil, the company introduced Grass Oil for Men aftershave/ cologne.
"Jovan Grass oil for men. An earthy, stimulating scent that weeds out the men from the boys. A potent, long-lasting blend of wild grasses and oils. In an aftershave/cologne that's invigorating. Exciting. And heady as the good, green earth after a rainfall. Now you can cultivate. Moist, cool, green, earthy Jovan Grass Oil. Splash it on. And let nature take its course. Jovan Grass Oil for Men. Soap-on-a-Rope Available at fine stores everywhere."
Ebony, 1974:
"Jovan Grass Oil Aftershave/ Cologne. Fresh and outdoorsy with stimulating herbs and deep forest scents. Have a field day."
The Grass Oil for Men line included:
Grass Oil for Men 3 oz Cologne Spray
Grass Oil for Men Aftershave/Cologne 4 oz Splash
Grass Oil for Men Travel size Aftershave/Cologne 1/2 oz Splash
Grass Oil for Men Soap on a Rope
So what does it smell like? It is classified as a balsamic green fragrance for men.
Top notes: galbanum, green note, bergamot, lemon, mandarin, basil
Middle notes: carnation, fern, geranium, cedar
Base notes:oakmoss, leather, labdanum, cinnamon, benzoin
Both were discontinued in the late 1970s and remain holy grail fragrances among their original devotees due to the scarcity of available bottles today.